40x
60
Sundown, Khan Doun Pehn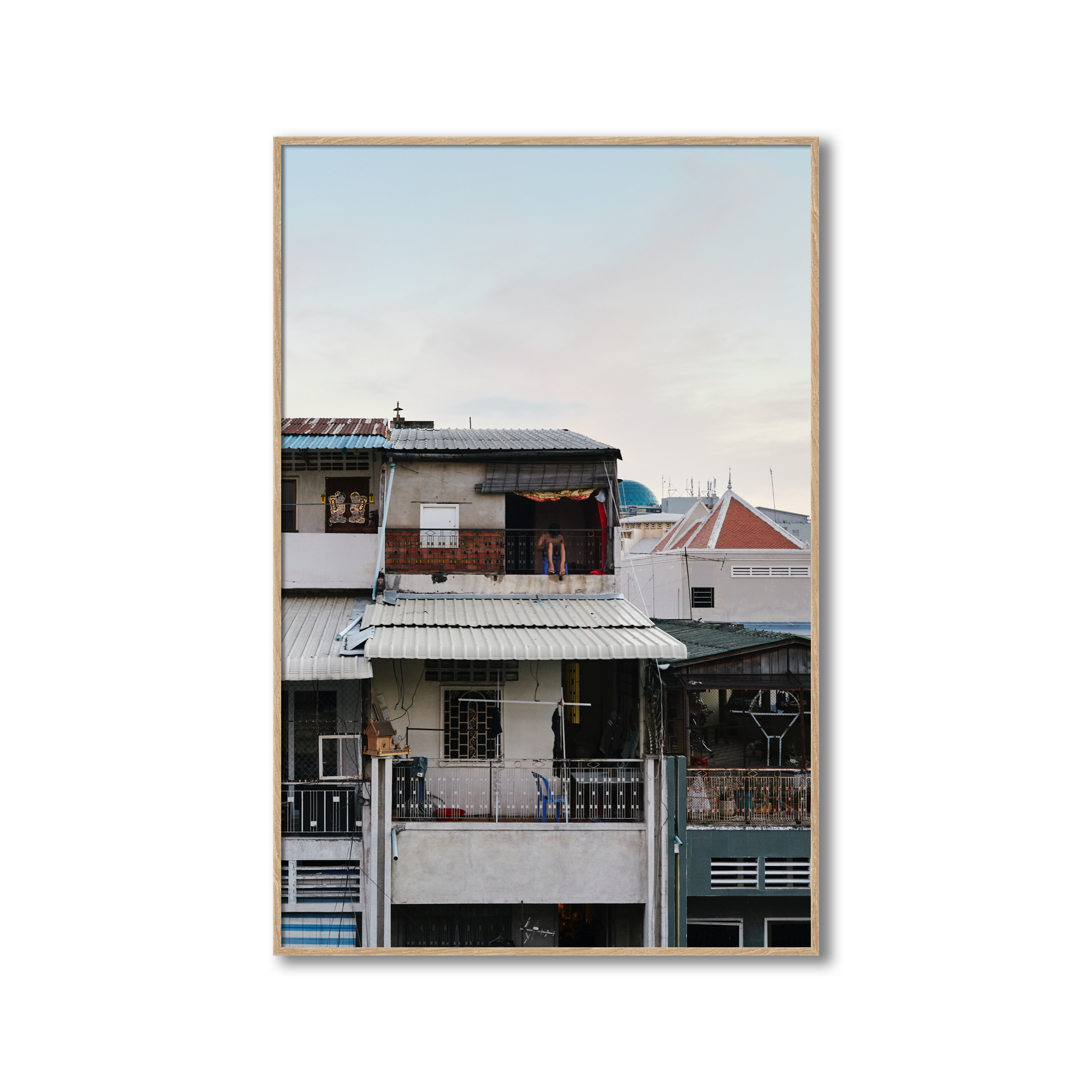 Limited Edition
Edition of 10
Year
2018
Image Size
40 x 60 cm
In late 2018, I spent a month in Kampuchea. I found Phnom Penh a physically harsh city of unforgiving sunshine, vast concrete surfaces and choked traffic. It had once been a shimmering metropolis of freedom-fuelled hope and elegance. But that was stripped and beaten bare by the genocide of 1975–79. The city and its resilient people are still recovering. I stayed alongside locals in a 1960s apartment building where life is predominantly lived among the communal walkways of the block's interior. Here, vegetables are chopped on lightwell ledges, children and animals play, and dinner for seven is served from a small charcoal stove. But when the light and heat of the day has faded, the sun-smothered street-side balconies come alive.
︎ Framed — AUD 520
︎ Unframed — AUD 375
Details
These fine art prints are printed on 100% cotton rag and framed in sustainably sourced Victorian Ash hardwood. Frames are made and assembled by hand in Melbourne by the team at Format Framing.
Environment
For every print ordered, I will plant a tree in Australia on your behalf through One Tree Planted.

One Tree Plante
d
is currently working with local partners in New South Wales to restore wildlife habitat and protect native trees species after the unprecedented damage caused by the wildfires of early 2020. By supporting this reforestation project, you are rebuilding a healthy, climate-resilient ecosystem for koalas and other wildlife, while also ensuring the survival of endemic plants. One Tree Planted aims to plant over six million trees across the country in 2020.
Shipping
Prices include standard shipping in Australia. Delivery is tracked, and all work is insured against loss or damage.
Each order is printed on demand. Please allow two weeks delivery time.

Delivery is 100% carbon neutral.